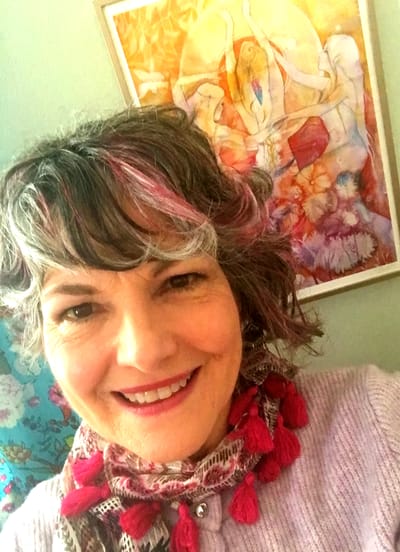 When I first heard the words
"Creatrix"
many months ago I had an immediate spark of excitement and a deep resonance within my bones. A
"Creatrix"
is defined in the dictionary as a female who produces, creates and brings forth. It is a word that has been used since at least the 1600's. The
"Creatrix"
knows that the years you have left to live are less than those you've already lived. Such awareness helps me get on with defining and living my ideal life. She is the witness that holds the lamp to illuminate the path the younger women behind her will travel. For me,
"Creatrix"
expresses the fullness of who I am and what to do. I am 'She' that creates - in manifest forms. A word that feels at once enchanting, mystical, powerful, and slightly mischievous!
"I am creating a life, I love" is my mantra and I am in the archetype "Enchantress" life phase of the Divine Feminine which challenges us to find those gifts of age and hard-won wisdom we have so well earned. I love walking in the forest which soothes my soul, gives me answers to my life questions as I connect to the healing, stress-reducing beauty of the North Woods. Inner Wild Woman Studio is located in Ely, a small town in northern Minnesota, that is a dot on the map right under the border of Canada in the Boundary Waters Canoe area. I manifested the idea of finding a home with studio space that offers a safe, sacred space for women to gather, find healing, feel emboldened, inspired and encouraged. My studio is my sanctuary, a self-portrait of my soul and reflects all the things I love and all the things I am. Stepping into my studio feels like entering a sacred creative wonderland, where time moves at a different pace, inspiration is never ending, and anything is possible. In my studio I inhale deeply, while infusing my aromatherapy blends, I am free to explore, to chase that winding path of imagination and creativity. Some kind of alchemy stirs within me as I let myself get lost in the dream, I transcend the endless bustle of modern life and am free to simply be.
I am grateful for my life experiences and the wisdom I have gained that allows me to help in my life's purpose of guiding women in their healing process and teaching them about the tools available to aid in their journey. I am working on building a sisterhood in my community as I am called to pass on my wisdom of being a teacher and healer to others. I want to empower women to follow their life journeys with a renewed sense of purpose and love for themselves.
I welcome you to participate in the monthly Sacred Women's Full Moon Circles I will be facilitating each month and a wide variety of mind, body and spirit workshop topics. For more specifics on each event click on
EVENTS
. I encourage you to add a whole emotional wellness level to your practice and my goal is to educate you on topics that inspire you to improve your well-being. Optimal wellness includes caring for the 'whole' self, creating a healthy environment, appreciating nature and being grateful for the basic pleasures of life. I teach how to live by the lunar cycles, using essential oils to enhance and balance emotional and physical aspects of your life, balancing the chakras, vibrational energy healing, crystal healing, flower essences, ecstatic dance, sacred practices, manifestation (I have proven it works!) and many others that will nourish your mind, body and soul.
I love this quote by Jan Porter,
"One woman is a tiny divine spark in a timeless sisterhood tapestry collective; All of us are Wild Women."
Blessings.
Marcia
Sacred Women's Circle Creatrix
Holistic Aromatherapy Practitioner
Gallup Certified Strengths Coach